Synthetix's SNX price soars as Synth perps volume spikes
Synthetix (SNX/USD) price has staged a strong comeback in the past few days as investors cheer the upgrade to V3. It rose to a high of $3, which is much higher than the lowest level during the weekend at $2. Like other coins, SNX has soared by over 100% from its lowest point this year.
SNX token surges
Synthetix, a leading player in the blockchain industry, is doing well. The SNX token is one of the best-performing coins in the world, according to data compiled by Binance. It has jumped by over 32% in the past 24 hours.
There are several reasons why SNX is doing well. First, the on-chain volume shows that perpetual futures in the ecosystem is doing well. Its daily volume surged to more than $100 million. Daily fees in the Perps futures has jumped to over $67k in the past seven days. 
And as shown below, the cumulative perps volume has been in a strong bullish trend. Therefore, investors believe that Synthetix's ecosystem is doing well even as challenges continued.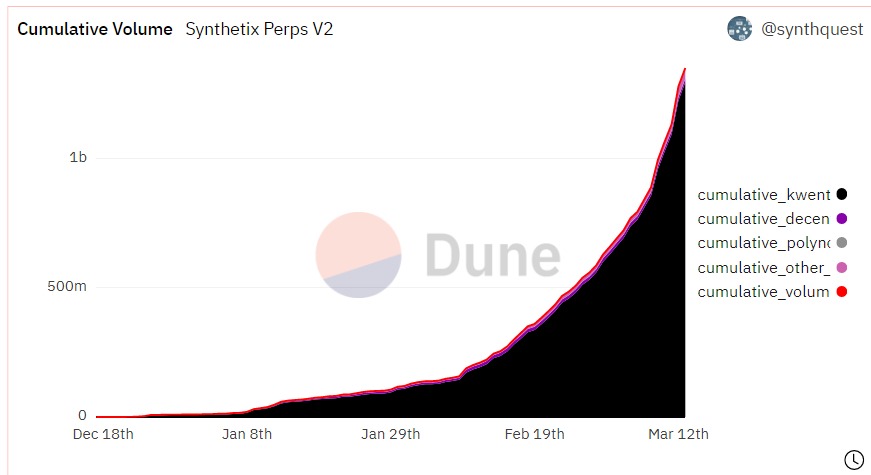 Second, Synthetix is doing well is because of its upgrade to V3. The V3 is a big upgrade that will be much different from the existing platform. It will provide a permissionless derivatives liquidity platform to power on-chain financial products. It will transform the network into a layer of liquidity that all derivatives can be built upon.
In a statement, the developers said that Synthetix will release these upgrades to the upcoming months. The initial release has already happened and will be followed by the collateral agnostic system and V3 spot market. The order types in V3 will be atomic orders, asynchronous orders, and wrapping. 
Like other cryptocurrencies, SNX price is reacting to the developments in the banking sector. Silicon Valley Bank and Signature Bank closed last week. Circle's funds at Silicon Valley Bank will be released. 
SNX price prediction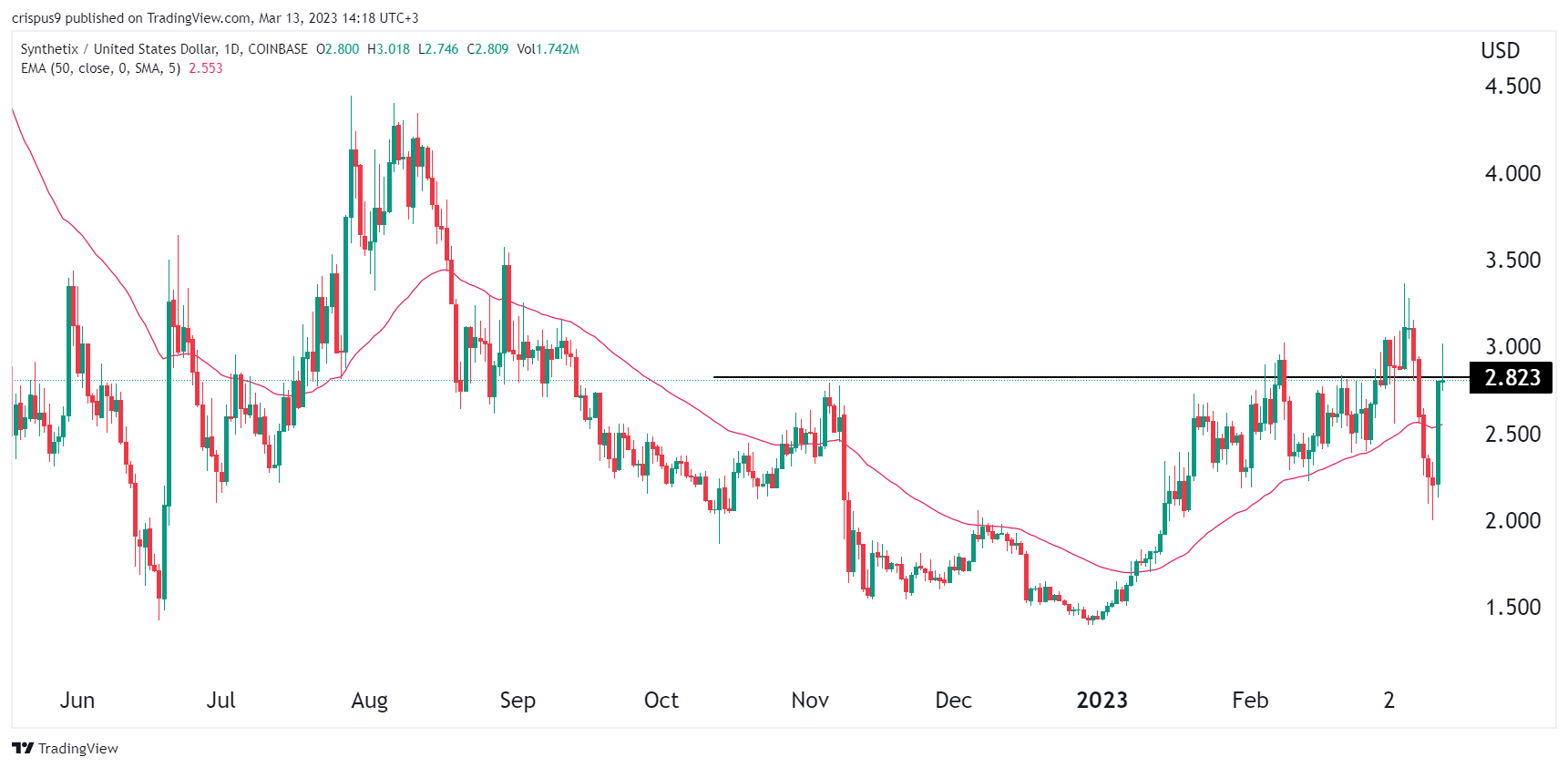 SNX chart by TradingView
The daily chart shows that the Synthetix price has made a strong comeback in the past few days. It has managed to move above the 50-day exponential moving average. However, it has formed what looks like a shooting star pattern, which is usually a bearish sign. It sits at an important level since this price was the highest point on November 5.
Therefore, there is a likelihood that Synthetix will pull back in the coming days because of the shooting star pattern. If this happens, the next key level to watch will be at $2.50, which is the 50-day moving average